Sunday Weekly Review
The story so far: In the beginning the Universe was created. This has made a lot of people very angry and been widely regarded as a bad move. ~ Douglas Adams
It's summertime, but it doesn't feel like it. Absolutely not. The media is bombarding us with disaster-related headlines. Recession, climate change, virus, virus, virus, virus, eat bugs.... There is no good news. The greater the fear, the greater the control. So simple.
---
The Ukrainian president Zelensky was featured in Vogue. His country is supposed to be war zone, but what better way to help than to model?! He's done this before, so nothing new for him. Can't deny that he looks stunning in heels.
---
Germany is bracing for a winter disaster since it did not listen to Uncle Putin 12 years ago. Vladimir Terziyski, thank you for the fantastic find.
https://world-nuclear-news.org/Articles/Putin-suggests-Germans-replace-nuclear-with-firewo
Germany's news isn't all negative. It appears that common sense isn't entirely dead.
Until now, the German Federation of Hospitals (DKG) has favored mandatory vaccination for nursing and care staff. However, according to an official statement, the association, which falls under the Ministry of Health, is now changing its position.

"According to the current findings, it is not sensible and not transferable to continue," Board Vice-Chairman Henriette Neumeyer told Redaktionsnetzwerk Deutschland on Wednesday.

https://rairfoundation.com/german-hospital-federation-demands-withdrawal-of-vaccination-mandate-after-massive-side-effects-revealed/
Coincidently (of course).
Around four million people in Germany suffer from heart failure. This is indicated by the new report by the German Heart Foundation. Often the weakness of the pump arises unnoticed. This is what makes the disease so insidious.

https://www.focus.de/gesundheit/ratgeber/herz/risiko/herzbericht-herzschwaeche-risiko-schnellcheck-verraet-ob-sie-zum-arzt-muessen_id_124303043.html
And another 100 % coincidence.
Up to 300,000 Brits are unaware they may have potentially deadly heart condition… and many people have no symptoms at all.

https://www.dailymail.co.uk/health/article-11047189/Up-300-000-people-Britain-unaware-potentially-deadly-heart-condition.html
---
Meanwhile, the current Vice President of the United States….
The United States of America was founded by great people such as George Washington, Thomas Jefferson, John Adams, Benjamin Franklin, Alexander Hamilton, John Jay, and James Madison. What did Americans do decades later? Chose moronic puppets for president and vice president.
I predict future happiness for Americans, if they can prevent the government from wasting the labors of the people under the pretense of taking care of them.
~ Thomas Jefferson
---
If you believe the world can't get any more bizarre, you're mistaken.
---
Sweden: towards a "climate pass" to block purchases above a certain threshold of CO2 emissions?
This was supposed to be a conspiracy theory, right?
And that as well!
---
WHO dictator wanna be Tedros Adhanom Ghebreyesus stated that any information that does not come from him should be removed from social media, and I apologize for the terrible news for some of you: Tedros also banned sex!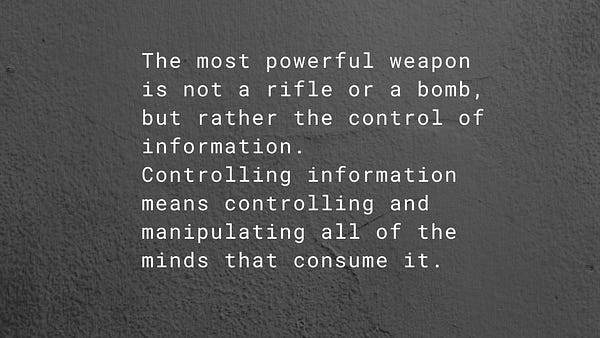 NOW - Tedros calls on all social media platforms to work with the WHO to counter #monkeypox "disinformation." https://t.co/a6O3fRRpbp
---
My review must be called 'bizarre news', but it is what we have as news now.
---
If you like my work and want me to keep doing it, please share my articles, donate through my blog, or become a paid subscriber.