Sunday Weekly Review
"Devotion to the truth is the hallmark of morality; there is no greater, nobler, more heroic form of devotion than the act of a man who assumes the responsibility of thinking." ~ Ayn Rand
It's summer in Europe, and it's getting hot here and there. That wouldn't be news until this year, when the summer has apparently turned dangerous. It is due to climate change. We're melting.
What did governments do?
Climate lockdowns were implemented in the United Kingdom and France...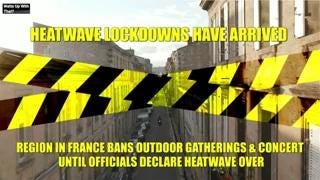 odysee.com
Climate Lockdowns are Here!
Though this is expected as part of the new world order - it is still incredible that adults will let themselves be locked up
Wait a minute, it was a conspiracy theory..... Oh well, never mind. Temperatures are similar to previous years, but instead of sun and clouds, we have red zones.....
Media and celebrities scream: the end is near, and the only way to stop it is to stay at home all the time, to not travel, and eat bugs. It's just for us the plebs. Elites can travel, eat meat, and live freely. Cattle must be terrified and confined!
---
Putin is a bad boy, a brilliant one but bad, therefore the American European Union may let him to do whatever he wants. Zelensky is a Nobel Prize nominee (old news, but it just occurred to me). If Obama can, why can't Zelensky? The only people who can help ourselves are us, the citizens of the European Union, who are held captive by a seriously dangerous cartel. Food and gas crises are made up!
---
The problem with luggage at airports persists, but why now? Because it was developed to embrace digital AIs once more. If someone wants a shortcut, they should just acquire one. How sweet, no? When the government recommends something as good, it is certainly bad. History confirms this.
---
Bulgaria's Fauci "Prof.Todor Kantarjievin "We anticipate a double outbreak of chicken pox."
If you still don't know why old and new pathogens are out and about read here https://angelovalidiya.substack.com/p/who-spreads-harmful-pathogens-recently/comments
---
Many governments are falling as fast as the Euro, but what comes next? EXACTLY THE SAME! A system based on enslavement and suppression of creativity will not lead to progress.
"You know, Miss Taggart, I don't think that such a motor should ever be made, even if somebody did learn how to make it. It would be so superior to anything we've got that it would be unfair to lesser scientists, because it would leave no field for their achievements and abilities. I don't think that the strong should have the right to wound the self-esteem of the weak." She had ordered him out of her office, and had sat in incredulous horror before the fact that the most vicious statement she had ever heard had been uttered in a tone of moral righteousness."

~ Ayn Rand, Atlas Shrugged
Ayn Rand's Atlas Shrugged is an excellent book on the subject. Make it a summer reading list. Better to get a paper copy, but you can also read it here: https://archive.org/details/in.ernet.dli.2015.458873
---
Look at wind turbine struck by lighting.
Might easily start a wildfire. Did anyone really examine the wind turbines' efficiency and safety? The wind turbines' effective capacity rate can show if the energy they produce is more or less than the energy required to build and maintain them. They are useless if they produce less energy. Did anyone calculated it for the rest of the so called green eco sustainable energy sources? I really want to know. A quick online search found no evidence of their efficiency. "Just believe us when we say wind power is good." We need facts, after all.
---
In many countries experimental gene product mandates are still in. Some people could use their jobs and even would be banned their own pension money if refuse to get it. Yes, the money they have saved their entire lives may be taken away from them!
People must realize that the government and every other institution are against them!
The purpose of laws and constitutions is to mimic the existence of justice.
Avoid giving any money to government. Question every tax and bill from them.
Experimental gene product mandates lead to a worker shortage. It's everywhere. Part of the people are sick as a result of the product, and the rest have left because they don't want it.
Off-grid living is growing rapidly, and I can see why: no need for government oversight, food and energy independence.
Off-grid living is tricky in some places, such as New Zealand. It is difficult to hide when you live on an island and when the Prime Minister is anti-human.
---
And, of course, WHO director or their dictator wanna be director did it. Monkey pox is a global health emergency
---
How to assist me do what I'm doing now?
Make a donation through my blog or become a paid subscriber to my citizen journalism substack newsletter.
In addition to regular articles on current hot topics, it includes a weekly review of the most important news and events (published every Sunday morning Central European Summer Time).
Even if you can't afford to support my work, you can still follow my blog and become a free substack subscriber to ensure you don't miss out on anything. I'm also working on new helpful articles.
Don't forget to share and make more people aware.
Follow me on:
-> gettr https://gettr.com/user/lidiyaangelova
-> twitter https://twitter.com/angelovalidiya
Subscribe to my channel and chat with me on Telegram https://t.me/genueprospect.
An informed citizen is a self-sufficient citizen! This is the NWO's most powerful threat!
Love,
Lidiya
—